Dust Clogging Bath Fan Vent
If you have a bathroom ventilation fan located in your ceiling, there is a very good chance that you will need to clean it on a regular basis.

The longer you let these vent covers collect dust, without cleaning them, eventually your fan motor and exhaust ducting will become filled with dirt and dust also. Try to keep these and your fan motor as clean as possible, this could extend the life of your ventilation fan.

Home Repair Tip - These dust clogged bathroom fan vent covers can be cleaned, very easily with a vacuum and if you're vacuum has a brush attachment, this can be done in a matter of seconds.

If they become too dirty, they can easily be removed by pulling the cover down gently from the ceiling. It will stop about 6 inches from the ceiling and you will see that on each side of the cover, there are two wire pieces that can be squeezed together, in order to remove the cover the rest of the way.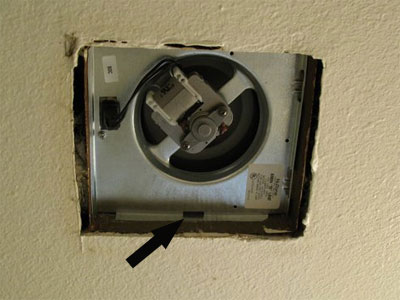 Gently squeeze the two wires together. This won't take a lot of force to remove them. The arrow points to one of the slots that the wires slide into. The other slot is on the opposite side.