Delaminating Roof Plywood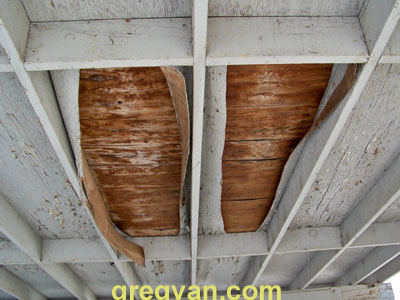 De-laminating roof plywood will need to be replaced. The plywood in the picture above, will definitely need to be replaced as soon as possible.

Home Safety Repair Tip: I wouldn't advise walking on top of this roof. The roof damage is too bad and you could easily fall through it, if you weren't standing directly over the roof joist and get hurt.

Always use caution when making any home repairs, especially home repairs like this. If you don't feel comfortable, hire a professional. Make sure that your contractor has experience fixing damaged roofs that are now a safety hazard.


Home Repair Tip: To repair roof damage like this, remove the roofing and the damaged plywood, and then check the roof rafters for wood rot, mold, fungus and other wood damage.

Repair any damage to wood framing and then, you can re-install the new roof sheeting and roofing materials.

Pay attention to my home safety repair tip. Anytime you see damage like this, roofs and floors will be no longer safe to walk on.